A monthly outreach to our friends in Canada
Moe Meetings!
David Wilkins and the Team were honored to welcome Saskatchewan Premier Scott Moe and his provincial staff to Washington, DC for a series of meetings and events on Capitol Hill built around the annual winter gathering of the National Governors' Association.
Premier Moe also participated on a Politico panel sponsored by the Canada Institute at the Wilson Center alongside Alberta Premier Jason Kenney.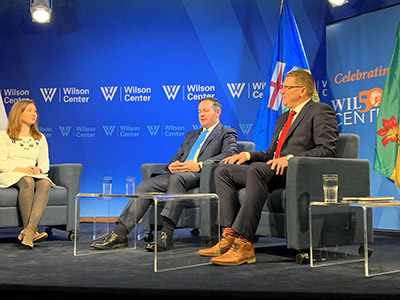 Face the Press: Western Premiers Moe and Kenney take questions from Politico Pro's Lauren Gardiner on the state of the US-Canada relationship in advance of attending the National Governors' Association meeting
South Carolina Governor Henry McMaster, Premier Moe and David Wilkins exchange home team goodies at February's NGA meeting in DC.
A "Heckuva Run"
After 15 years of big time keynote speakers and lots of recognition for South Carolina lawmaker and civic leaders, the final Furman University Riley Institute's "Wilkins Legislative Award" dinner was held on January 14.
Columbia's finest gather at the Columbia Metropolitan Convention Center for the 15th and final Wilkins Legislative Awards.
South Carolina Governor Henry McMaster and your former US ambassador to Canada enjoy one last Wilkins Award soiree.
Held on the first night of the legislative session each year and attended by political, community, and business leaders, the Wilkins Awards Dinner promoted citizenship, public service, and bipartisan governing.
Wilkins addresses the Columbia crowd.
Your former US ambassador was deeply privileged that the Wilkins Awards were named in his honor all these years and that the final award went to his good friend and longtime legislative leader, Representative Gary Simrill (R-York), the House Majority Leader and vice-chair of the Ways and Means Committee.
Proud to present the final award to York County Representative Gary Simrill.
Nella Barkley, president of Crystal-Barkley and community leader, received the 2019 Wilkins Award for Civic Leadership.
And of course, astute CCC readers know the "Riley" in the Riley Institute is named after Nelson Mullins namesake, former South Carolina governor and US Secretary of Education, Dick Riley.
Dick Riley addresses the Columbia crowd.
Last Take
A Rosie Outlook
Team Wilkins is proud to announce the newest member to our team! Please meet the beautiful Rosie Samara Meyers!
Ravishing Rosie Meyers!
Little Rosie, a beauty obviously, is the daughter of our own Justin Meyers and his wife Lindsey. Rosie made her big reveal on January 18 weighing 7lbs 1 oz.
Baby, mom and dad are all doing great!