A monthly outreach to our friends in Canada
Keeping Pace at PNWER
It's been a busy summer for David Wilkins and the Team.
While South Carolina temps sizzled as usual, Team Wilkins enjoyed some humid-free, productive time in sunny Saskatoon, Saskatchewan at one of the best bilat confabs going – the Pacific NorthWest Economic Region Annual Summit.
The July 21-25 conference was the 29th annual gathering of legislators and private-sector delegates representing member provinces and states: Alberta, British Columbia, the Yukon and Northwest Territories as well as Alaska, Washington, Oregon, Idaho, and Montana. Loyal CCC readers know Saskatchewan, in particular, is a province near and dear to our hearts, and Nelson Mullins was honored to be a sponsor of this year's meeting that focused on areas of trade, travel, the economy and the environment.
Saskatchewan Premier Scott Moe welcomes PNWER delegates to his province and the summit on a beautiful Saskatchewan summer Sunday night.
A group of guys: David Wilkins, Northwest Territories Premier Bob McLeod, former US ambassador David Jacobson, and Saskatoon Mayor Charlie Clark at the PNWER welcome reception in the gardens at the historic Delta Bessborough.
Premier Moe and your former US ambassador to Canada, David Wilkins.
Wilkins helped jump start the summit on Monday morning, sitting on a panel that examined bilat trade – especially with the stalled U.S.-Mexico-Canada Agreement (USMCA) – hanging in the balance.
The panel was moderated by CABC's Scotty Greenwood. It also featured former US ambassador David Jacobson and former Canadian ambassador Michael Kergin.
Wilkins makes a point on trade.
"It's crunch time; it's time to get it approved. Americans want it approved. Mexico approved it. Two years is long enough; let's get it done," Ambassador Wilkins told the crowd. He also recommended that the next American ambassador in Canada, "Get out from behind your desk in Ottawa, talk to as many Canadians as you can ... I always said 90 percent of what I did was just showing up."
It's always great to catch up with our "PNWER peeps" that included this year Gary Mar; Rob and Brenda Merrifield; Lucia Piazza; Monte Solberg; John Stewart; Pam Wallin; David Miller; Jodi Banks; Renata Bereziuk; Terri Harris; Dustin Duncan; Ken Cheveldayoff; Kent Campbell; Bronwyn Eyre; Everett Hindley; James Kettel; Lyle Stewart; Victor Thomas; Matt Morrison and others!
Two Southerners Make Good Up North
It's one of the most exclusive events in North America and getting an invite to the private affair is both coveted and rare.
For 19 years now, at the invitation of networking powerhouse Frank McKenna – a former premier of New Brunswick, Canadian ambassador to the US, and currently a TD Bank deputy chairman – some of the world's most influential people gather at an idyllic Canadian coastal resort called Fox Harbr'r in Nova Scotia. For one night, they mix and mingle, talk current world events and hear featured remarks offered by a prominent personality.
At this year's event, held Monday, July 8, the keynote honors went to South Carolina's own Nikki Haley. The former Palmetto State governor and US ambassador to the UN who stepped down from that post in December 2018, addressed the prestigious group and was, as usual, a trailblazer. Haley was the first female in the event's history to offer the featured remarks.
But she wasn't the first South Carolinian to ever address the group of business titans, academics, sports figures and politicos gathered at Fox Harb'r. That would be Nelson Mullins' own David Wilkins – former speaker of the South Carolina House and US ambassador to Canada who was only months into his new jobs as our country's top envoy in 2005 – when he gave the keynote remarks at Fox Harb'r. He has had the privilege of returning frequently for the networking event ever since.
Two former South Carolina legislators make good up North: Nikki Haley and David Wilkins.
This year it was wonderful to catch up with many wonderful friends including Bob Deluce; Paul Hill; Arthur Irving; Sarah Irving; Jim Irving; Peter MacKay; Michael Haley; Shawn Graham; Dominic LeBlanc; Bernard Lord; Stephen Lund; Bharat Masrani; Steven Joyce; Stephen McNeil; Annette Verschuren; Kevin Vickers; Marc-Andre Blanchard and so many others.
Making it Back to Montreal
Team Wilkins loved heading back to magnificent Montreal June 2-4 for the 12th annual Southeastern United States–Canadian Provinces Alliance (SEUS-CP) conference.
It was a homecoming of sorts for Wilkins as he was US ambassador and serving in Ottawa when SEUS-CP was founded with the signing of a joint declaration by six southeastern US states and seven Canadian provinces at the very first conference held in Montreal back in 2007.
SEUS-CP defines itself as an economic forum dedicated to increasing trade; promoting bilateral investments and stimulating technological and scientific exchanges.
South Carolina Head of Delegation Wilkins surrounded by SEUS-CP friends.
The six original member states are Alabama, North Carolina, South Carolina, Georgia, Mississippi and Tennessee. (Florida just recently joined.) The seven Canadian provinces are Prince Edward Island, New Brunswick, Nova Scotia, Ontario, Quebec and Newfoundland and Labrador. Members meet annually at a conference held alternately in Canada and the United States.
"Intelligent mobility" was the focus of this year's event.
They Said What?
"I was not surprised at all when I heard his name on the news yesterday. We predicted he would do this 10 years ago," – Jessica Masseth, a former schoolmate of the Dayton, Ohio mass shooter, regarding his longtime disturbing behavior, as quoted by published reports.

"In addition, note the media duplicity in reacting to tragedies. In covering the El Paso terror, candidates such as Beto O'Rourke immediately affixed blame to President Trump -- without pushback from interviewers. But did the mainstream media blame Rep. Alexandria Ocasio-Cortez, whose words were directly quoted by the terrorist who attacked the ICE facility in Tacoma, Wash.? Did cable news anchors indict Sen. Bernie Sanders when a rabid supporter shot Rep. Steve Scalise and tried to massacre other Republican members of Congress at a baseball practice in 2017?" – RealClearPolitics and CNN political commentator Steve Cortes writing in the wake of the horrific shootings in El Paso and Dayton.

"As the USSR retreats into the rearview mirror of history, there is a growing tendency to romanticize its disastrous reign through the lens of contemporary wokeness. Sure, Communists tortured and executed dissidents, starved their own people by the millions and operated gulags — but have you heard about their amazing space feminism and space intersectionality?" – New York Post columnist Karol Markowicz mocking the New York Times for an oped this summer that criticized the US space program and celebrated the "advancements" made by the old Soviet communist regime.

"Look, you just saw that debate and there wasn't a single question or answer suggesting there was a Trump-Russia conspiracy. That whole thing was gone. Right? After two full years, we know it was a fake investigation. A partisan one. Is anyone going to be held accountable? That's the question on people's minds now," – Former Clinton adviser Mark Penn on with Tucker Carlson, lamenting that after more than two years and hundreds of TV hours devoted to "Trump-Russia" not a single Trump-Russia conspiracy question was proffered at the CNN-hosted Democrat presidential primary debates.

"The top of our preseason college football power rankings should surprise no one. Clemson, coming off a 44-16 throttling of Alabama in the national title game, stays on top, but the Crimson Tide are right behind at No. 2. The prospect of Clemson vs. Alabama, Part V is very real," – from ESPN's preseason college football power rankings: Can anyone stop Alabama vs. Clemson?
Last Take: Wilkins Clan Wrangles the Range
June found David and Susan, as well as their sons, daughters-in-law and all the grandkids in beautiful – but brisk – Wyoming at their fav dude ranch.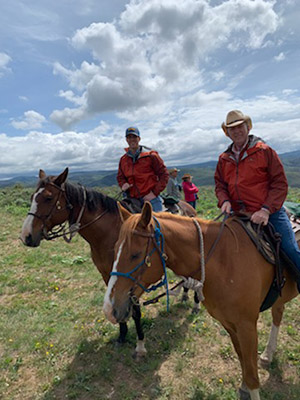 Robert and David Wilkins ride the range.
On top of the world! James, David, Whit and Robert Wilkins.
Great grub! Hope and James, David and Susan.
Better Together!
The A Bar A Ranch sits along the banks of the North Platte River, in the heart of southern Wyoming's Medicine Bow Mountains. It has become a favored spot for the Wilkins family, second only to their beloved perch at Pawleys Island, SC!