A monthly outreach to our friends in Canada
Wilkins Watch
Big Plane Lands in the Palmetto State
David and Susan Wilkins were on hand, along with Wilkins' BFF US Senator Lindsey Graham and some key Graham supporters, to welcome Vice President Mike Pence to South Carolina's Upstate on Saturday, March 30.
David and Susan Wilkins help welcome the Vice President of the United States to their state last week.
The Vice President and Second Lady Karen Pence were in the Palmetto State to help Graham jump start his 2020 reelection campaign with rallies in Myrtle Beach and Greenville. In Myrtle Beach, Pence told a fired up crowd of about 800, "South Carolina and America need Lindsey Graham back in the United States Senate for six more years."
Graham is pursuing a fourth term in the US Senate and is expected to face a "formidable" Democrat challenger in large part, pundits suggest, because of his friendship with President Trump. Democrats say this is a problem for Graham but in deep red South Carolina, Graham's cordial ties to the president are viewed as a positive with his GOP base. Graham enjoys a 74% approval rating among Republicans and those who lean Republican in the Palmetto State, according to a Winthrop University poll released last month – that's up by 24% in less than two years according to that same poll.
Republicans around the country are also taking note. Graham's passionate defense of Supreme Court nominee Brett Kavanaugh (who has since been confirmed) transformed Graham into a GOP superstar. "He'd say some things I really agree with and then say something that would really tick me off," Jean Webb, 73, told the Charleston Post and Courier. "But when he stated his opinion about Kavanaugh, that was the first time in my lifetime I felt that I saw a politician speak the truth and didn't care whether people liked it or not. That's when I became a Lindsey Graham fan."
Graham made sure to remind voters about the contentious Kavanaugh hearing saying it showed why he "cannot afford to lose." Graham also assured the home state crowds, "You'll see the president later on in the year."
Speaking of Republicans…
The National Republican Congressional Committee (NRCC) held its annual spring dinner on April 2 in Washington, DC and your former US ambassador to Canada was there. David Wilkins was on hand to hear the lay of the land from various GOP congressional leaders. The organization is the GOP's campaign arm responsible for electing Republicans to the House. Wilkins was delighted to catch up with many old friends and celebrate with new ones including his Congressman, William Timmons, who was recently elected to represent a chunk of Upstate South Carolina that encompasses Wilkins' hometown of Greenville.
4th District Congressman William Timmons and David Wilkins in Washington, DC this week.
Timmons replaces the retiring Trey Gowdy. (Editor's note: Savvy CCC readers know Gowdy is busier than ever – a much in demand speech giver and TV news political pundit, as well as a celebrated former prosecutor and attorney who, we are so proud to say, works alongside our team here at Nelson Mullins!)
But, back to the NRCC. Of course, it was the keynote speaker that commanded the room's attention.
President Donald Trump told the gathering of GOP bigwigs he's confident Republicans will retake the House in 2020 after losing control in last year's midterm elections. Addressing a number of high profile issues including the severe crisis at the US border with Mexico, the President said he stands ready to take drastic action if Congress doesn't do more to curb illegal immigration.
"Security is more important to me than trade. We'll have a strong border or we'll have a closed border," President Trump said.
The Statue Fits the Stature
David Wilkins was honored to be in Charleston, SC on Wednesday April 3 where a statue was unveiled honoring The Honorable Sol Blatt, Jr. Judge Blatt is the longest serving federal judge in South Carolina history and known for his impeccable integrity, manners, reputation for fairness, high intellect and stamina. He passed away two years ago at the age of 94.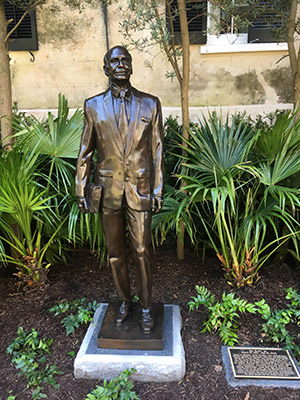 The statue of Judge Sol Blatt, Jr., stands in the courtyard of the J. Waties Waring Judicial Center on Meeting Street in downtown Charleston.
Judge Blatt was appointed to the federal bench on July 14, 1971. He took senior status in 1990 and on December 18, 2006, Blatt became the longest-serving federal judge in South Carolina history.
The Wilkins family was privileged to call Judge Blatt a friend and their ties to the Blatt family run deep. He was the only child of one of South Carolina's most famous sons – Soloman Blatt – who presided as speaker of the South Carolina House for 33 years (the second-longest serving speaker in US history).
In 1981, Soloman Blatt was speaker emeritus of the SC House when a young freshman lawmaker from Greenville, SC named David Wilkins took his seat for the first time and Blatt took him under his wing. The illustrious Speaker Blatt had his reasons: David and Susan Wilkins were close friends with Blatt's granddaughter Sherry Blatt Hooper and her husband, Tee. It is a steadfast friendship that remains strong to this day.
More than a dozen years after Speaker Blatt showed Representative Wilkins the legislative ropes, Wilkins himself would be elected speaker, following in Blatt's footsteps. Unlike Blatt, Wilkins didn't stay in the job for three decades. He left after 11 years when Canada came calling.
(Editor's note: As for Speaker Blatt, he died in 1986 at 91. At the time, he was the nation's oldest lawmaker and had served in the Statehouse for more than 53 years. He was first elected in 1933, serving as speaker from 1937 to 1947 and again from 1951 to 1973.)
They Said What?
"Biden has to understand that in the world we are in now people's space is important to them and what's important is how they receive it, not necessarily how you intended it. Just pretend you have a cold and I have a cold," – Democrat Speaker of the House, Nancy Pelosi, offers fellow Democrat and presidential wannabe Joe Biden some advice – and her support – following multiple reports that Obama's former veep has a history of making women feel uncomfortable.

"Biden is a lonely political centrist in a constellation of socialist-leaning Democratic stars, which may be the reason some in his own party are trying to destroy him with specious claims of sexual oddities, even before he's expected to announce his presidential candidacy. Stop the madness. Judge Uncle Joe on the real issues, not the vague sexual stuff. Nor on offenses that even his accusers admit never happened," – New York Post columnist Andrea Peyser writing on Joe Biden this week.

"…the Democrats have a hypocrisy problem, because they have a long record of staying relatively silent when a man who abuses a woman is a Democrat. From lionizing (Ted) Kennedy despite his horrific treatment of Mary Joe Kopechne, to ongoing support for Clinton, and inexplicable silence around Joe Biden's weird propensity to inappropriately touch women and girls, Democrats haven't exactly walked the walk for women," – Wendy Murphy, an adjunct professor of sexual violence law at New England Law|Boston, writing in the Boston Herald this week.

"…when (Trump) became president, the instantaneous decision was to declare his presidency illegitimate and foreign-aided. That doesn't mean all of these stories were made up, of course, but I think there was a deep need to make sense of it all, to somehow not recognize the result. So a lot of people wanted to cancel it out. But that's not what the press is supposed to do. That's not our job. I was watching Chris Matthews yesterday, and he was basically saying now that collusion is off the table, we're just going to have to win the election, as though that's the first time that thought ever occurred to him. That should've been the thought on day one," – Rolling Stone columnist Matt Taibbi, a leftwing journalist opposed to Trump, who nonetheless spent two years calling out his mainstream colleagues for their biased reporting on Trump and Russia.

"You claim that the HB481 "Heartbeat Bill" would make Georgia the most regressive state in the country; I couldn't disagree more. Abortion is so 1973. Welcome to 2019, a time in which medical advances preserve the life of babies born as early as 21 weeks. In case you didn't know, that's three weeks earlier than what most states in the U.S. consider 'viable' in their abortion legislation," – "Unplanned" actress Ashley Bratcher responding to actors including Alyssa Milano who are threatening to boycott the state of Georgia for passing the "fetal heartbeat" bill.
Last Take
Eyes on Earhardt
A famous University of South Carolina alum, Ainsley Earhardt, returned to her roots to help host a big event held at her alma mater. The Fox and Friends morning co-host served as emcee for the March 12 induction ceremony of the South Carolina Business Hall of Fame.
He was speaker of the SC House when she was a local TV news anchor. Both moved on and up! David Wilkins and Ainsley Earhardt.
Wilkins, a USC law school grad, was on hand for the big night to help celebrate Smyth McKissick, the chairman of the board of his alma mater, Clemson University, who was a SC Business Hall of Fame inductee. The black-tie event was held at the USC Alumni Center in the center of the historic, downtown campus in Columbia.
Earhardt is a 1999 graduate of the University of South Carolina and received a Bachelor's degree in journalism.