A monthly outreach to our friends in Canada
Wilkins Watch
Just in Time – In the immediate wake of last Sunday's late night news that the new United States-Mexico-Canada Agreement, or U.S.M.C.A., had been reached to replace NAFTA, your former US ambassador to Canada, David Wilkins, found himself in Washington, DC, just in time to chat with members of the Canadian American (Can/Am) Border Trade Alliance.
The 2018 Can/Am conference featured high powered speakers focused on the US-Canada bilat such as Can/Am President and CEO Jim Phillips and trade lawyer extraordinaire Dan Ujczo of Dickinson Wright PLLC.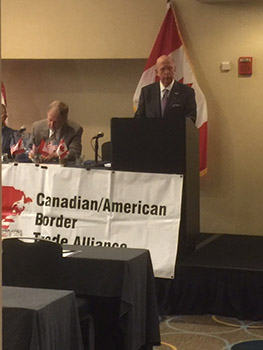 David Wilkins addresses the Can/Am crowd gathered in Washington, DC last week
Will It Happen? – The week before Can/Am, Wilkins was up in beautiful Banff for the annual Global Business Forum. Hot speculation then from major movers and shakers on both sides of the US-Canada border was on whether a new NAFTA deal could even be reached with the US deadline looming and divisive issues on dairy, autos and other hot buttons seemingly still flummoxing US and Canada negotiators.
Of course, that's way old news now with the new accord. But miles still need to be traveled as the governing bodies in each country still need to ratify the deal. Lawmakers here in the US are making noise that – surprise! – approval by them is anything but certain.
Well, what is certain – you can't beat Banff to hold a great conference and Wilkins always enjoys reconnecting with old friends.
Double David Deal: Global panel discussion on the "Changing Role of the US" featuring former US ambassadors Wilkins and David Jacobson, led by Maureen Boyd.
David Jacobson, PNWER's Matt Morrison and David Wilkins in Banff late last month.
It was wonderful to see so many great Canadians at the Global Business Forum including Doug and Lois Mitchell, Gordon Campbell, Gary Mar, Tim McMillan, Brian Humphries, Luba and Randy Pettipas, Colin Robertson and many others!
Mighty Mattamy – Earlier last month, Wilkins was honored to be in Toronto where, as a member of the Mattamy Homes Board of Directors, he helped celebrate the Mattamy Homes 40th anniversary. While there, he was delighted to catch up with the likes of Frank McKenna, Peter MacKay and John Baird!
Crazy for Clemson
Because y'all asked (Editor's note: Ha! Y'all know Wilkins insisted we force feed you) Clemson University football is once again near the top of the college football universe. Wilkins beloved team is 6-0 following a blowout Saturday versus Wake Forest (63-3). Yikes!
But the lopsided Clemson win was certainly a turnaround from the week prior where Clemson barely held on versus Syracuse in a game that featured high drama at the QB post. We won't get into all the deets but it was loco to say the least. It included one star QB leaving the program, one superstar QB getting hurt, and like a sweet Cinderella story (only one with big, smelly, sweaty guys instead of a pretty princess), it was the untested third string signal caller who came in and saved the dang day! (Really, it brings a tear to our eyes just thinking about it all. But we digress…)
At any rate, heading into this weekend, there are 11 undefeated college programs ranked in the top 25. Clemson is ranked #4 in the US of A. Of course, Alabama is ranked #1. (Editor's note: We're so over Alabama being in the top spot. Whatever.).
Clemson is off this coming weekend and faces North Carolina State on October 20. Of course, you will eventually read all about it here in your Carolina Canada Connections (read: assuming Clemson wins. In the event of a loss, we lock down and just pretend it never happened.) So, yes, stay tuned.
They Said What
"When you see Sotomayor and Kagan, tell them that Lindsey said hello because I voted for them. I would never do to them what you've done to this guy. This is the most unethical sham since I've been in politics. And if you really wanted to know the truth, you sure as hell wouldn't have done what you've done to this guy…Boy, you all want power. God, I hope you never get it. I hope the American people can see through this sham," – Senator Lindsey Graham (R-SC) blasting Democrats during the Senate Judiciary committee's confirmation hearing.

"NBC News, for the record, has not been able to independently verify her claims. There are things she told us on camera that differ from her written statements last week. We've been trying independently to reach out to anyone who remembers attending parties with Julie Swetnick and Brett Kavanaugh and we've been asking her attorney for names. So far, we've not found anyone who remembers that," – NBC News reporter Kate Snow in regards to NBC's highly criticized airing of an interview with a woman who made changing, outlandish and wholly unsubstantiated claims against Kavanaugh.

"Is this the right person to sit on the highest court in the land for a lifetime appointment when their credibility has been challenged by intimates, people who knew the candidate well as a classmate. When his temperament has been revealed in an emotional moment where he used language that frankly shocked a lot of us. And then, ultimately, not whether he is innocent or guilty, this is not a trial, but ultimately, have enough questions been raised that we should not move on to another candidate in that long list put together by the Heritage Foundation and Federalist Society. Move on to another candidate because ultimately the Supreme Court is not an entitlement," – New Jersey Democrat Senator Cory Booker arguing against the Kavanaugh nomination.

"This is a freak show. An intergalactic freakshow. It's a grotesque carnival…they called him a rich, drunk, lying sexual predator and the man took offense to that. And they say as a result he doesn't have the demeanor to be on the Supreme Court? They must really think the American people are stupid," – Senator John Kennedy (R-LA) lamenting what he deems the character assassination of Judge Kavanaugh.

"I was deeply disturbed by the lack of judicial temperament and the lack of impartiality,"—North Dakota Democrat Senator Heidi Heitkamp explaining to voters in her red state why she voted against Judge Kavanaugh.
Last Take
Truly saving the best for last, David and Susan Wilkins are thrilled to share the blessed news that their son, James, recently got engaged to the beautiful Hope Meeks. The news only gets better because Hope is mom to two precious preschoolers who have already taken residence in the hearts of the entire Wilkins clan and especially enjoy the attention and affection of the Wilkins' 10-year-old wonder twins, Whit and Clary, who adore their soon-to-be-cousins!
The couple plan to wed December 27.
Congratulations James and Hope!